Like trucks, we have a huge variety of Heavy Equipment and Construction Machinery listed under the Machinery tab of our website, where you can explore various categories and applicable dealers.
Below, we'll discuss some of the core categories:
An ADT (Articulated Dump Truck) or articulated hauler, is often seen as the entry-level machine for an inexperienced mobile plant operator on a quarry or opencast site. These machines are described as entry-level since they require basic skill levels to be operated. This makes them well-suited for operators who have limited heavy mobile plant experience.
ADTs are heavy-duty, usually all-wheel-drive, vehicles used to transport loads like sand, gravel, and more. They can transport these loads over rough terrain and sometimes even on public roads.
An ADT consists of two basic parts, which is the front section called the tractor and the rear section called the hauler or dump body.
An excavator, also called a digger or mechanical shovel, is a heavy-duty yellow machine typically used in the construction industry. It consists of a boom, bucket, dipper (or stick), and cab on a rotating platform known as the "house". The "house" of the excavator sits on top of an undercarriage with tracks or wheels. The tracks on the excavator are similar to tank tracks and are activated by a diesel-powered engine while the hydraulic motors control the arm of the excavator.
Excavators can be used in construction, forestry, landscaping, mining and other industries, They perform tasks like digging trenches or foundations.
A crane is a type of machine that can be used to lift and lower materials, as well as move them horizontally. Cranes are usually equipped with a hoist rope, wire ropes or chains, and sheaves. They are mainly used to transport and/or lift heavy objects such as concrete blocks, bricks, and steel structures during construction.
Cranes used in the construction industry are generally temporary structures and will be either fixed to the ground or mounted on a vehicle. The operator can control the crane from inside a cab that moves around with the crane.
A grader, also known as a road grader or motor grader, is a heavy-duty yellow machine commonly used in the construction and road maintenance industry. They can also be designed for specialised tasks such as underground mining. Graders have a long blade in the centre that is used to create a flat surface during the grading process.
Graders typically have three axles with the steering wheels in front, followed by the grading blade, then a cab and engine on top of the tandem rear axles. Some graders also have front-wheel drive for improved performance.
Rear attachments are available for some graders, such as rippers, scarifiers, and compactors. A blade can also be added to the front axle, and the main blade can have extensions mounted.
A loader is a heavy-duty machine mainly used in the construction industry to move or load materials such as sand, gravel, asphalt, and rocks into dump trucks, railroad cars or onto conveyors, just to name a few.
There are various types of loaders such as front-end loaders, backhoe loaders, wheel loaders, and skidsteer loaders, which are named according to their design and application.
A loader consists of a tractor, which includes the cab, the wheels or tracks, and a front-mounted bucket connected to the end of the boom/arm.
A roller, also called a road roller or a roller-compactor, is a compactor-type vehicle used to compact soil, asphalt, concrete or gravel in the construction or road-building industry. The weight of the road roller is used to compress the surface being rolled.
Types of rollers include smooth wheeled rollers, vibratory rollers, grid rollers, pneumatic tyred rollers, tamping rollers, and sheepsfoot rollers.
The type of roller needed to complete the task will depend on the type and size of the project, as well as the type of surface to be compacted.
A paver or paving machine is a piece of equipment used to lay asphalt on roads, bridges, and parking lots to name a few. The paver lays the asphalt flat and provides minor compaction before it gets compacted by the roller.
In order for the surface to be smooth, the paver should proceed at a constant speed and have a consistent stockpile of material in front of the screed. Because of the need for constant speed and material supply, it's recommended to use a material transfer unit in combination with the paving machine. The material transfer unit allows the material to constantly feed to the paver without making contact with it, resulting in a better end surface.
A forklift, also known as a lift truck, fork truck or fork hoist, is diesel-, petrol-, LPG- or electric-powered industrial truck used to lift and move goods and materials over short distances. They are typically used in warehouses and manufacturing facilities although they can also be used in other sectors.
Each type of forklift is designed to lift and move loads of a specific weight, so it's important to do your research before making a purchase. The information can be located on the nameplate provided by the manufacturer and loads must not exceed these specifications.
An aerial platform, also known as an aerial work platform (AWP), elevating work platform (EWP), or mobile elevating work platform (MEWP), is a machine used to provide temporary access to high areas for people or equipment.
Other types of aerial platforms are also known as Cherry Pickers or Scissor Lifts.
These platforms are commonly used for maintenance, construction, and cleaning work, but can also be used by emergency workers.
The various types of platforms can be customised to handle specific tasks.
A drill rig is used to drill wells in order to access substances found in the earth's subsurface, which include water, oil, and natural gases. They can either be massive structures that are more permanent (usually land or marine-based) or they can be small to medium-sized structures that are mounted on trucks and trailers. Small to medium-sized drill rigs can be used in mineral exploration drilling, water wells, and environmental investigations, while large drill rigs are capable of drilling through thousands of meters into earth's crust.
Drilling rigs can be classified by their power used, namely mechanical, electric, hydraulic, and pneumatic. They can also be classified by their method of rotation or their drilling method, namely no-rotation, rotary table rotation, top drive rotation, sonic drilling, and hammer drilling.
A crusher is a heavy-duty machine used to break up large rocks into smaller pieces, gravel, sand or rock dust.
Crushers are typically used in mining operations and are classified by the degree to which they fragment the starting material. Each type of crusher is designed to work with a certain size of raw material.
In mining operations, the raw materials (of various sizes) are usually delivered to the primary crusher's hopper by dump trucks, excavators or front-end loaders. The material enters on a feeder device, an apron feeder, conveyor or vibrating grid, which controls the rate at which the materials enter the crusher. The feeder will often contain a preliminary screening device which allows smaller materials to bypass the crusher itself, which improves efficiency.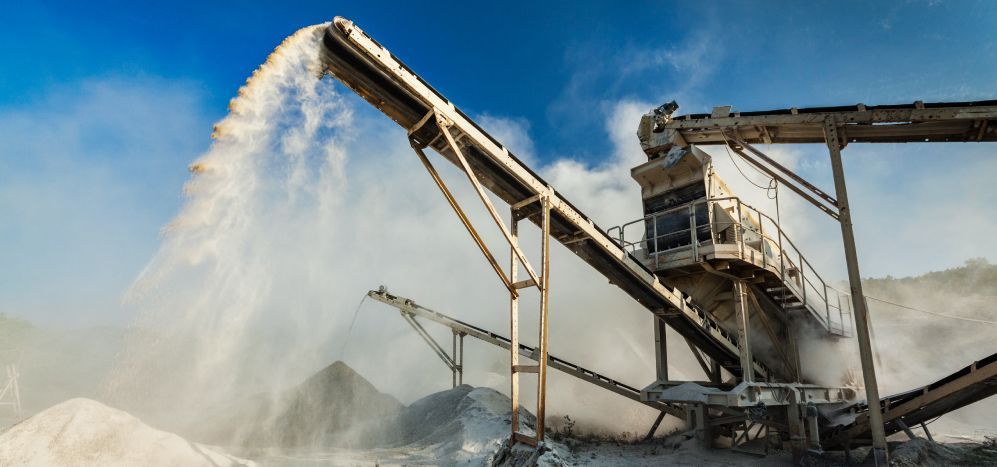 Surface miners are used to mine raw materials such as coal, salt, gypsum, phosphate, bauxite, and the like in open-cast mines. They achieve a high degree of purity and maximises exploitation of the deposits. The capital expenditure is considerably lower when using surface miners, as the selective process reduces the amount of equipment, personnel, and time needed.
Other benefits of surface miners include the elimination of blasting and the creation of stable, precise, and even surfaces that can be used as road surfaces, tunnel floors, or embankments.
Surface miners are driven by four steerable and height-adjustable crawler units. The automatic levelling system ensures that the machine maintains its exact cutting depth, which allows thin layers to be selectively mined with maximum precision.
An air compressor is a piece of equipment used to convert power through an electric motor or fuel-operated engine into potential energy stored in compressed air. The air compressor will force more and more air into the storage tank until it reaches its limit and the compressor shuts off. The compressed air is then stored in the tank until called into use. When the air gets used and the tank reaches its lower limit, the compressor will switch on again to repressurise the tank.
Air compressors can be used in a wide range of industries such as the aerospace, automotive, chemical, manufacturing, medical, and mining sectors, just to name a few.
---
All machinery listed on our website can be further categorised into conditions like new and used. We host a large variety of OEM Machinery brands on our site as well. See below for examples:
---
Feel free to contact us with any questions or read up on How to find what you are looking for on our website.