Fuel efficient, durable, and reliable, UD Condor trucks are an excellent investment. With a wide range of models to choose from, it's easy to find a truck that matches the requirements of your business. These trucks boast innovative safety features, which set them apart from the crowd. Find UD Condor vehicles for sale on Truck & Trailer today.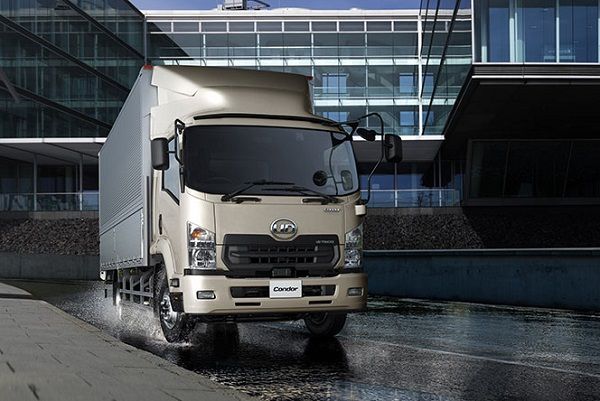 Photo source – udtrucks.com
Pleasant driving experience
Photo source – udtrucks.com
UD Condor trucks deliver an enjoyable driving experience that promotes efficiency and decreases fatigue. Quality comfort and convenience features ensure that drivers maintain their focus on the road during longer trips. These trucks are equipped with highly efficient engines that help to decrease running costs. Another highlight of the models in this range is their automatic mechanical transmissions. The reliable transmission mechanism boosts comfort levels by making it easier to change gears.
Efficient fuel consumption
Advanced engines
Investing in UD Condor trucks helps to reduce the transportation expenses of your business. These vehicles are equipped with highly efficient engines that won't let you down when the going gets tough. While these engines are light and compact, they don't compromise on performance. Condor engines boast an innovative system that regulates high-pressure fuel injection, timing, and volume.
VGS turbo and Eco Stop
Another highlight of these trucks is VGS turbo, which boosts acceleration and decreases fuel consumption. Eco Stop is a noteworthy feature that to fuel efficiency. When the truck comes to a standstill, the engine switches off and on again automatically.
ECONO mode
ECONO mode offers automatic gear changes, improving the operability and fuel consumption of these trucks.
Active safety features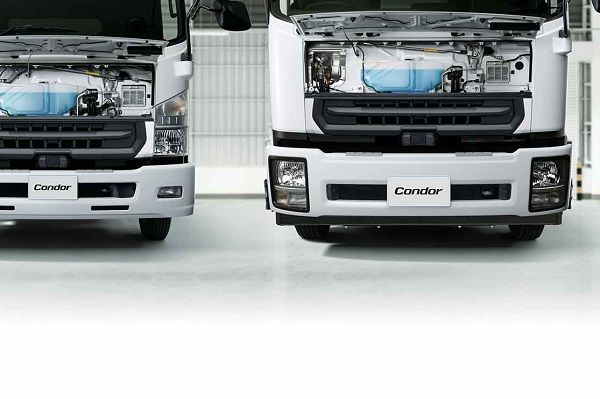 Photo source – udtrucks.com
Advanced safety features support responsible driving on a daily basis. The Pre-Crash Brake system helps to decrease the risk of an accident taking place. If a collision is unavoidable, the brakes are automatically applied to reduce damage. The Lane Departure Warning System alerts the driver if the vehicle veers off course unintentionally. This feature is activated at speeds that exceed 60kph. Another noteworthy feature of these trucks is the Millimeter-Wave Inter-Vehicle Distance Warning system, which monitors the space between the truck and the vehicle in front of it. If the truck is too close to the other vehicle then an alarm warns the driver of the potential danger. Electronic Stability Control also plays a vital role in accident prevention by alerting the driver to unstable conditions.
Passive safety features
Not only are the UD Condor trucks equipped with active safety features, but they also boast passive features that provide additional protection. These features are designed to decrease damage if an accident takes place. The models in this range are equipped with an SRS airbag as well as seatbelts that feature pretensioners. The rigid cab includes a reinforced waist, which protects the vehicle's occupants from the impact of a collision. If a forceful head-on collision takes place, the steering wheel shaft and wheel are designed to absorb some of the impact to limit it from reaching the driver.
Fundamental safety features
These simple safety features are an integral aspect of the design of UD Condor trucks . The wide front window provides excellent visibility when travelling on the roads while the advanced headlamps improve visibility in low lighting conditions. The fog lamps and variable intermittent wipers decrease the risk of accidents in bad weather. Your trucks are protected against theft by the immobiliser.
Convenient maintenance
The durable design of these trucks ensures that they deliver a performance you can count on. Reduced downtime and maintenance expenses boost your profits and enable you to deliver a reliable service to your customers. The front-open lid adds convenience to regular maintenance tasks and the equipment that's connected to daily inspections is easy to access. It's effortless to review maintenance information using the multi-information display.
Specifications
Condor MK/LK
The Condor MK/LK has a GVW of 7.5 to 11 tons and a 4 x 2 axle configuration. This model is equipped with an ATM or 6-speed manual transmission. It delivers a maximum power of 190 to 240 hp with a torque of 515, 706 or 765 Nm.
Condor PK
The Condor PK has a GVW of 14.5 to 16 tons and a 4 x 2 axle configuration. Equipped with a 4HK1-TCH engine, these trucks deliver a maximum power of 240 hp and a peak torque of 765 Nm. They're fitted with an ATM or 6-speed manual transmission.
Condor PW
The Condor PW has a GVW of 20 tons with a 6 x 4 axle configuration. These trucks deliver a maximum power of 240 – 310 hp with a peak torque of 765 or 1177 Nm. They feature an ATM or 9-speed manual transmission.
With so many advantages to owning UD Condor trucks, it's easy to see why they're a popular choice. Expand your fleet by finding trucks for sale on Truck & Trailer today.