Quick Links:
What is a Bulldozer?
A bulldozer is a machine that is traditionally used in the construction industry when the moving of earth, rocks, and other heavy materials is required. These powerful construction machines can be used for a number of jobs that are associated with surface preparation. A bulldozer is made up of a tractor, which is usually mounted to metal tracks that allow it to track or crawl over a variety of normal and rough terrain.
The machine consists of the following key elements:
Operator cab - Where the operator sits to drive and control the dozer.
Prime mover - The tractor that powers the grader.
Track frame, rollers and assembly - The components that allow the unit to move.
Blade - The blade that is situated at the front and is the main tool.
Scarifier - also known as a "ripper." This hydraulically controlled "fork" is used to break up surfaces.
Push arms and pitch arms - Components that allow the blade to move and function.
What is the purpose of a Bulldozer?
Bulldozers perform a host of tasks and are key pieces of heavy machinery that are designed for the following:
Clearing - Rocks, tree stumps, and rough terrain are but a few things that bulldozers can move around. They can also move heavy objects.
Spreading - The perfect tool to spread material or dirt fill like sand and rocks.
Filling - Moving soil or materials to fill large holes.
Finishing - Dozers can be used to finish off surfaces like sand roads and other surfaces that require preparation but not to the same finish as a road grader.
Digging - Dozers can be used for shallow digging projects.
Transportation - Dozers are capable of moving material short distances. They are capable of pulling and pushing.
Top Bulldozer brands listed on Truck & Trailer:
How to Find a Bulldozer
A simple search online will give you options, but the best place to find a bulldozer is on www.truckandtrailer.co.za. As the leading digital marketplace for construction machinery and equipment in South Africa, our website is home to a great number of bulldozers for sale.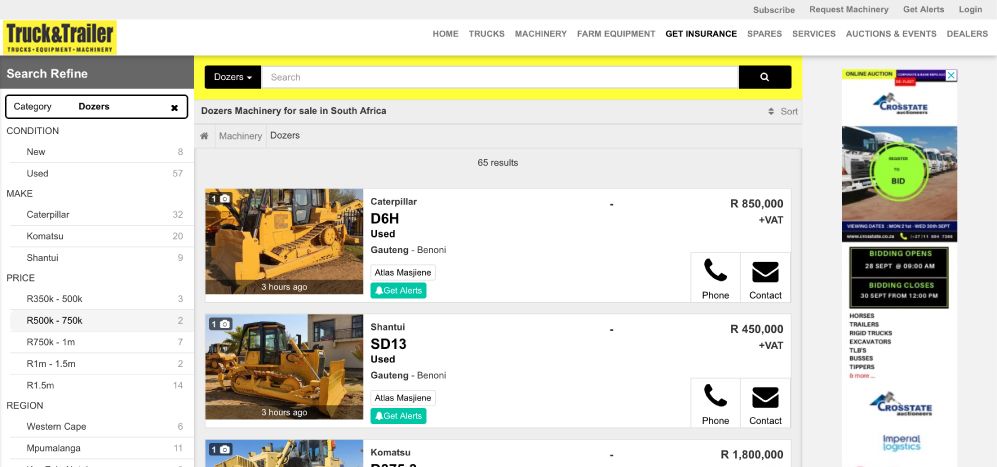 Our dozer category is easy to navigate and our users are presented with a number of filters so that they can find the dozer that best suits their requirements.
When looking for a bulldozer, users will find new and used units for sale. These bulldozers can then be filtered by make, price, region, year of manufacture, and the all-important hours of operation.
When a user selects their filters, the search results are automatically updated in the adverts display window located alongside the navigation bar. The results served to the users are the most relevant results related to the initial search criteria.
Once a user has reviewed the initial search results, which display the basic relevant information related to the bulldozer being sold, they can then select the specific advert to view a more detailed advert listing. This then expands the advert to reveal a full product description, images, and a list of product-relevant specifications or information.
The listing will also show the relevant seller's contact information.
How to Buy a Used Bulldozer
When buying a used bulldozer, there are a number of considerations a buyer must factor into their decision-making process. Because these machines carry hefty price tags, buyers must ensure that they review and inspect the bulldozer thoroughly.
The following elements must be taken into consideration before a final purchase decision is made:
A dozer is of no use if it can't be driven. An inspection of the tracks, track frame and rollers are essential to ensure that the machine can manoeuvre.

Open up the engine covers and have a mechanic inspect the engine to ensure that it is as advertised.

The operator cabin should be inspected and a buyer should pay attention to the following cabin elements.
Dials and gauges
Steering, pedals, and controls
The general condition of the interior
Doors
Windows and screens
Mirrors
Inspect the bulldozer's blade to ensure it can move and function. Check that the leading edge is in good condition and does not require replacing. Check the hydraulics, pipes, and cables to ensure quality. Inspect the blade mechanics and all operational parts.

Inspect the scarifier to ensure it can move and function. Check the fork and its teeth, depending on the one that is fitted. Check the hydraulics, pipes, and cables to ensure quality.
It would be beneficial to have an operator on hand to demonstrate the working order of the dozer to give the buyer an exact idea of what they will get for their investment. Have the operator drive and demonstrate all the functioning parts.
How to Sell a used Bulldozer
When it comes to selling a used bulldozer, the best place to do this is on Truck & Trailer. As the leading commercial marketplace, listing your dozers on our website is a sound option.
When it comes to selling a dozer, there are a number of key factors a seller should cover in their advert listing.
It is advised that as much information as possible is given about the bulldozer being sold. Information pertaining to the following points will go a long way in helping you to sell your bulldozer:
Sellers must provide all the basic listing information relating to make, model, price, hours of operation, and year.

When it comes to providing a detailed description of the unit, sellers should:
Explain the reason for the sale of the bulldozer
Provide information related to its past working life
Detail its current working condition with reference to:

The engine
The tracks, track frame, and rollers
The cabin
Steering, pedals, and controls
State of the blade and scarifier
Hydraulics and pipes
Providing this information to your potential buyer will go a long way in assisting them to make an informed buying decision and an easier sales process for the seller.