Quick Links:
What is a TLB?
A tractor-loader-backhoe, more commonly referred to as a TLB, is a multipurpose and versatile machine that is often used in the construction industry when digging and moving rubble or sand is required. TLBs are extremely manoeuvrable and are used across a number of industries.
The machine consists of the following key elements:
Operator Cab: Where the operator sits to drive and control the TLB.
Prime Mover: The tractor that powers the grader.
Backhoe: Composed of a number of working parts, the backhoe is located at the rear of the TLB and is primarily used for digging or moving heavy objects. Its mechanical arm is fitted with a bucket, which enables it to perform its various functions.
Loader Bucket: Located at the front of the TLB, the loader bucket is attached to a lift arm that allows the operator to dig, shift, and carry heavy loads.
What are TLBs used for?
TLBs perform a host of tasks and are key pieces of machinery that are designed and used in the farming and construction industries.
TLBs can be used for:
Clearing: Rocks, tree stumps, and rough terrain are but a few of the things TLBs can move around.
Spreading: The perfect tool to spread material or dirt fill like sand and rocks.
Filling: Moving soil or materials to fill large holes.
Transportation: For the moving of building materials and equipment.
Digging: TLBs can be used for digging projects that don't require an excavator.
Breaking: TLBs are used for breaking asphalt.
Top TLB brands listed on Truck & Trailer:
How to find a used TLB on Truck & Trailer?
The best place to find a TLB is on Truck & Trailer. As the leading digital marketplace for construction machinery and equipment in South Africa, our website is home to a great number of TLBs for sale.
Our TLBs category is easy to navigate and our users are presented with a number of filters so that they can find the TLB that best suits their requirements.
When looking for a TLB, users will find new and used units for sale. Our TLBs can be filtered by make, price, region, year of manufacture, and the all-important hours of operation.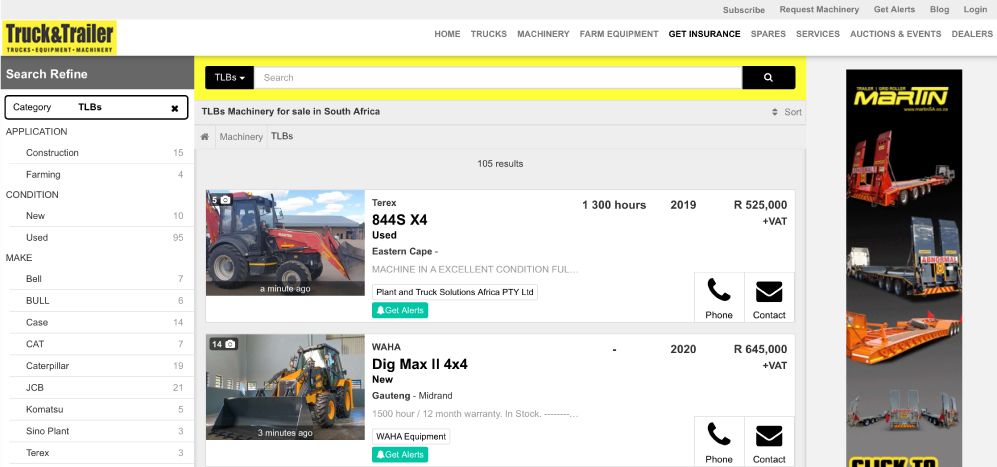 When a user selects their filters, the search results are automatically updated in the adverts display window located alongside the navigation bar. The results served to the users are the most relevant related to the initial search criteria.
Once a user has reviewed the initial search results, which display the basic relevant information related to the TLB being sold, they can select a specific advert to view a more detailed advert listing. This then expands the advert to reveal a full product description, images, and lists of product-relevant specifications or information.
The listing will also show the relevant seller's contact information.
How to buy a used TLB?
When buying a used TLB, there are a number of considerations a buyer must factor into their decision-making process. Because these machines carry hefty price tags, buyers must ensure that they review and inspect them thoroughly.
The following elements must be taken into consideration before a final purchase decision is made:
Establish why the TLB is being sold and try to get some idea of its working past.
Understand its maintenance history and establish if it has had any previous damage or mechanical work done to it.
Consider if any parts need immediate replacing, what they might cost, and if they are easily sourced.
Here are some key inspections to make when buying a TLB:
Loader Bucket: Pay close attention to the leading edges, the thickness of bucket side panels, and integrity of bucket welds.
Bucket Teeth: Check for any missing, loose, or worn teeth, or missing bolts.
Loader Arms: Check for any cracks, re-welds, or bends.
Boom and Stick: Check for spillage, re-welds, or dents.
Hydraulic Systems: Check hoses for any breaks or scratches and go over cylinders for leaks or damage.
The engine and its components.
Steering, pedals, controls, and the general condition of the interior.
Tyres and Tread: Look for gashes on the sidewall.
Check the hours of operation.
And finally, it would be beneficial to have an operator on hand to demonstrate the working order of the TLB to give the buyer an exact idea of what he will get for his investment. Have the operator drive and demonstrate all the functioning parts.
How to sell a used TLB?
When it comes to selling a used TLB, the best place to do this is on Truck & Trailer. As the leading commercial marketplace, listing your TLBs on our website is a sound option!
When it comes to selling a TLB, there are a number of key factors a seller should cover in their advert listing.
It is advised that as much information is given as possible about the TLB being sold. Information pertaining to the following points will go a long way in helping you to sell your machine:
Sellers must provide all the basic listing information relating to make, model, price, hours of operation, and year.
When it comes to providing a detailed description of the unit, sellers should provide the following information in their product listing descriptions:
Explain the reason for the sale of the TLB

Provide information regarding its working life history

Detail its current working condition with reference to:

The loader bucket
The boom, stick, and its bucket
All hydraulic systems
The engine and components
Tyres and tread
General overall condition
Providing this information to your potential buyer will go a long way in assisting them to make an informed buying decision and an easier sales process for you, the seller.